RONNIE PENQUE & FRIENDS
Ronnie has been performing concerts billed as "Ronnie Penque and Friends". The lineup of musicians in Ronnie & Friends can vary from show to show. Guitarist Andy Trister often is in the band along with Chris Penque, Joe Ciarvella, Jeff Oshetski and Clay Cassell. Ronnie's good friend James Saluzzi has joined in with the band recently as well. Ronnie Penque & Friends usually consists of 4 to 5 players although Ronnie has called as many as 9 friends up on stage.
Below is a list of musicians the play in Ronnie Penque and Friends.

RONNIE PENQUE
- Bass & vocals  
ANDY TRISTER
- Lead guitar 
JOE CIARVELLA - Drums & vocals   JEFF OSHETSKI - Guitar & vocals   
CHRIS PENQUE -Guitar & vocals   
CLAY CASSELL
- Drums & vocals
PETE NARDONE - Keys & Vocals  JOHNNY MARKOWSKI - Drums
JAMES SALUZZI
- Guitar        GARY SANGUINETTI - Guitar
KATIE PEARLMAN - Drums & vocals   
JEFF PEARLMAN
- Keys & vocals       
ALEC PHILLIPS  Keys & Vocals     Michael Kaufman      Tony Wynne  



***************************************************************




Press Release January 8, 2012

RIPPLE
Reunites

Ripple announces reunion concert

The New Jersey based Grateful Dead tribute band Ripple will reunite on Friday, February 3rd 2012 for a "one night only" concert at Mexicali Live in Teaneck New Jersey. Ripple has been know for decades as one of the premier Grateful Dead cover bands in the New York tri-state area. Since 1978 Ripple has brought the live excitement of an authentic Grateful Dead show to its fans like no other. In 2003 Ripple disbanded and called it quits after 25 years.

In November of 2011 Ripple reunited for the first time in eight years for a private party in Tappan New York. 200 plus people packed into the tiny venue to witness this show. Many fans were not able to get inside and see the show. Fans are looking forward to the reunion of Ripple at Mexicali Live on February 3, 2012.

BAND MEMBERS
James Saluzzi – Lead Guitar, vocals
Clay Cassell – Drums, vocals
Ronnie Penque – Bass, vocals
Pete Nardone – Keys, vocals
Chris Penque – Guitar, vocals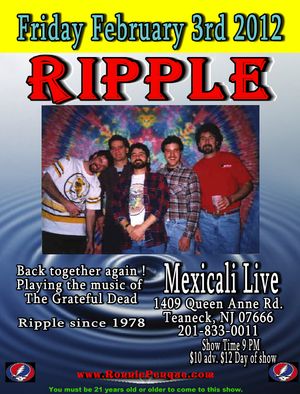 RECENT HISTORY
In late 2001 Ripple bassist Ronnie Penque and lead guitarist James Saluzzi joined Melvin Seals and JGB. Melvin Seals was keyboardist in the original Jerry Garcia Band. Ronnie and Jimmy toured the United States with Melvin and The JGB for three years playing the music of Jerry Garcia. Drummer Clay Cassell went on to join WigJam another NJ cover band. Pete Nardone and Chris Penque pursued other projects.

In 2005 Ronnie Penque joined the world famous New Riders of the Purple Sage, a San Francisco based band started by Jerry Garcia of the Dead in 1969. Since then Ronnie has been touring the country with The New Riders who in 2009 released their first studio album in 20 years, "Where I come From" on Woodstock Records. In 2010 Ronnie released his first solo record "Only Road Home" on Bayland Records. Clay Cassell and Wigjam still play in the NY/NJ area and recently played a show with Phil Lesh and Bobby Weir of the Dead. Pete Nardone is involved in many recording projects while Chris Penque plays in The Ronnie Penque Band with his brother.